Starter Website Design Package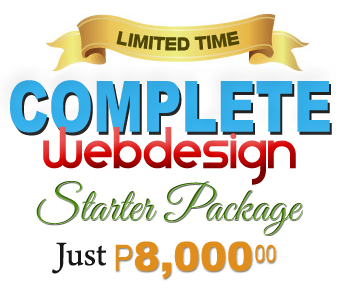 L
ooking for a complete solution to build a website without the technical skills?
Our
Complete WebDesign Starter Package
is the answer. Just pay for the cost of the Starter Web Design Package and whoosshh in a few days you get your website up and running. No technical skills required. Just send us the doc and image files. We will take care of everything. Domain name is FREE (only with extension .com, .net, .org, and .info) as well as  hosting fee for 1 year is included in the package. So you need not worry for 1 year about your website. One article update with 1 picture every month is also free for six months.  Truly, there is no website package deal better than this.
This package is available on

installment up to 12 months

, subject to approval.  Hurry, this offer is for a limited time only.
COMPLETE WEBSITE DESIGN PACKAGE
WordPress site with your chosen theme.

Choose from our gallery of themes and we will customize it   according to your preferred theme color by changing the background, icons, buttons and other web elements but no change in theme format or structure to maintain the affordability of this package.

7 site pages with Slider .

The pages are:

Home – content and design depends upon desired theme
5 pictures, Slider Gallery at Homepage
About Us – article not more than 500 words with 1 or 2 pictures
Products/Services – up to 5 products with 1 picture each (5 pictures, max.)
News/Blog – 1 article with 1 picture
Contact Us – contact form + Google Map + contact details
Privacy Policy
Terms and Conditions
Additional pages and functionality – subject to a new quote depending on your desired theme.

Contact Form +Google Map.

Social Buttons plugin.

We will install Facebook Likes, Twitter Tweets and Google + buttons in your homepage and in all pages of your site.

On Dashboard Visitor statistics.

This will allow you to monitor the number of visitors in your website, where they are coming from and for how long they stayed in your website.

Maintenance plugin.

This is used when you are doing updates in your site and you don't want your visitor to see a broken or messy website.

Other important plugins.

We will install other plugins such as Google Sitemap generator, Wp-Pagenavi, WP Super Cache among others.
FREE Domain Name
for 1 year
Only domains with extension .com, .net, .org, and .info are FREE for this package. Domains with .ph extensions are not free. Click here to make an order for .ph domains.
Free domain names are non-transferrable for a period of 2 years.
Domain name renewal after the 1st year is at P675.00 + Domain Privacy of P450.00 = P1,125.00 per year.
FREE

BASIC

HOSTING for 1 year incl. the ff.:
Hosting fee after the first year is at P200.00 per month for the Starter Hosting Plan.
3 Email Addresses with total mailbox size of 100MB.

Can forward the email to a gmail.com or yahoo.com email for easy monitoring.

100MB Diskspace.

This storage space is more than enough for a starter website. If you need more storage space, you can upgrade your hosting package to a higher plan.

Unlimited Bandwidth.

All our web hosting plan packages have unlimited bandwidth. This means no excess charges and no bandwidth error no matter how many visitors your site gets.

Free Weekly Backups.

We are conducting regular backups on all our hosted sites once every week. You can request a restoration of the latest backup at a fee of P 675.00.

Chat / Ticket / Email Support .

You can always contact us via chat or email whenever you have questions about our service. You can also create a Support Ticket to seek help with Technical problems.
FREE 1 ARTICLE UPDATE with 1 picture every month for 6 months
New website owners are normally not technically equipped to managed their website. Because of that, we are offering a free 1 article update every month to ensure that our clients' website are updated and running.  This offer is good only for the first 6 months of subscription.  Requests made after six (6) months will be charged correspondingly according to type of request. Just go to Add-On Services to make the order.

Select your theme from our
theme gallery.
"
The WebDesign Starter Package is good only for 7 pages. Should you choose a theme that will require additional pages and functionality, then we will create a new quote for you. You should have a design plan in mind when choosing the theme. We don't allow changes in Theme choices once the order is finalized, unless you are willing to pay the extra charge for changing the theme.

Choose your preferred color theme.
"
We will customize the theme according to your preferred theme color. However, no change in the design template format or structure is allowed for this package. We will only change the color, background, buttons and other web elements.  If you have your own graphics pack for your website, you can send it to us.  With these customizations, your website will appear unique especially with your logo on it.

Choose your domain name.
"
The domain name is free for this package for a limited time.  You have to send us 4 domain names – 1 priority domain name and 3 alternative domain names with extensions .com, .net, .org or .info. Should you want a .ph domain, you have to make an order for it separately.  We will check the availability of your preferred domain name and we will update you once it is successful.

Pay for the cost of the domain name and WebDesign Package.
"
If you order the Starter Package, payment is done via Paypal after you make the order.  If there are additional pages and functionality that you want, we will send you the bill separately.  If you want a .ph domain name, you have to pay for it separately, too.  You can pay us using your preferred Payment Method. The amount you will pay us is good for 1 year. We will bill you next year for the renewal of your domain name and hosting plan.

Prepare the doc and image files required of your theme.
"
Have a plan in your mind of what information you want to put in your website. Then go to your chosen theme and prepare the files as required by the theme design. You have to provide us all the articles, descriptions, captions and images. Your logo and pictures must be in high quality resolution. Each image and doc file must be properly identified to avoid confusion. If you have your own graphics pack for your website, just send them to us so we can use them.

Wait for a few days for your website to go live in your domain name.
"
Our goal is to finish your website within 5-7 days, assuming all the documents required from you are submitted to us. But due to some delays in the submission of documents and editing of the content, considerable delays may happen.
Increase your sales online with our Complete Starter Web Design Package for Professionals and Businesses