Sites with Booking Engine
Who It's Good For
Sites with Appointment System
Our Sites with Appointment WebDesign package includes the Standard webdesign package and the most comprehensive appointment booking solution for your site. This package is perfect for many businesses that schedule time with clients, such as:
spas and salons
photographers
consultants and life coaches
sales executives
doctors
lawyers
web designers, among others
Our Appointments+ is perfect for anyone who wants to:
Allow customers the option to book their own appointments online
Schedule appointments with clients
Enjoy a built-in CRM for managing customer contact information
Collect payments or deposits using PayPal
Manage your entire team, create unlimited service providers and unlimited services!
Send confirmation and reminder emails to increase customer attendance rates
Allow you and your clients to book appointments up to one year out
Manage all appointments right from Google calendar
Manage All Client Appointments Within your Website
Are you tired of missing out on new client calls because you're too busy hopping between your website and your appointment booking system?
Well, toss out those spiral notebooks, ditch the excel spreadsheet and get ready to save a fortune in time and money by managing ALL your client appointments right from your site.
Appointments + does it all.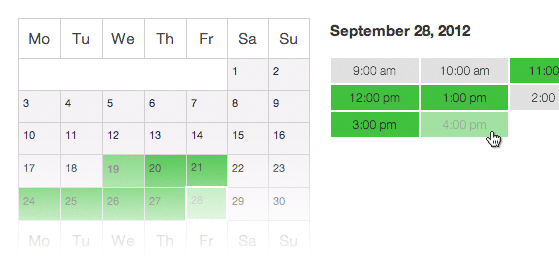 The ultimate appointment booking system for your business.
Book an Appointment in 3 Clicks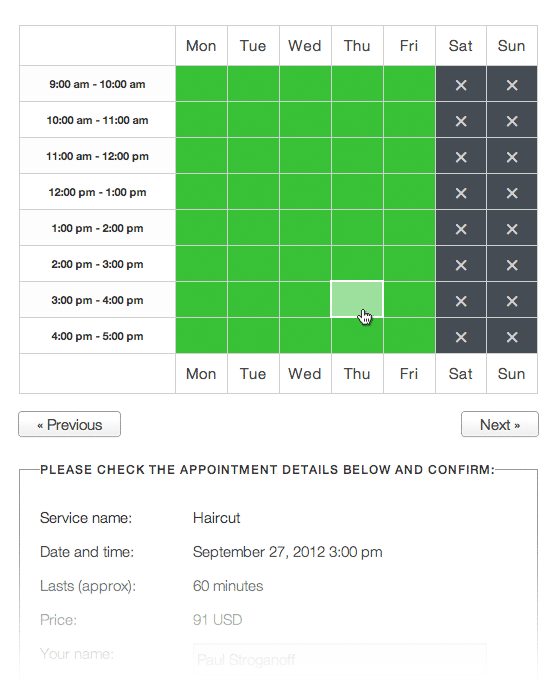 Use Paypal to collect payments and deposits right out of the box with Appointments+. No button creation or coding necessary.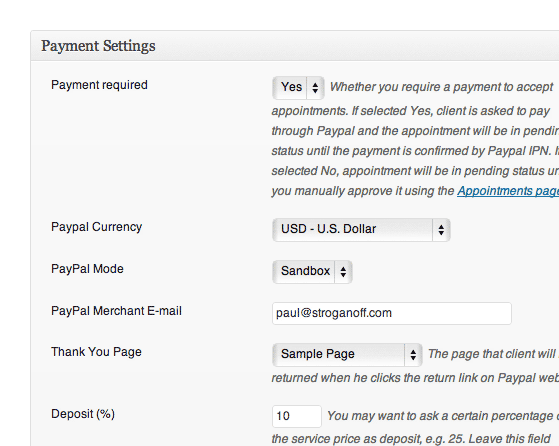 Setup customizable profiles for each of your team members and Appointments+ will automatically display their available time slots: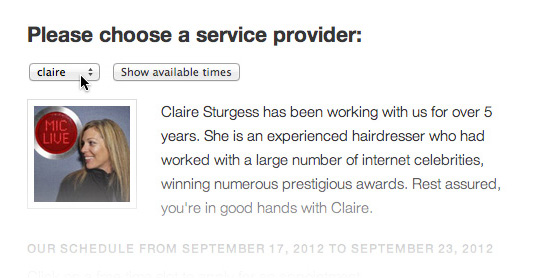 Clients can click any service your company offers and Appointments + will display all your available team members for that service: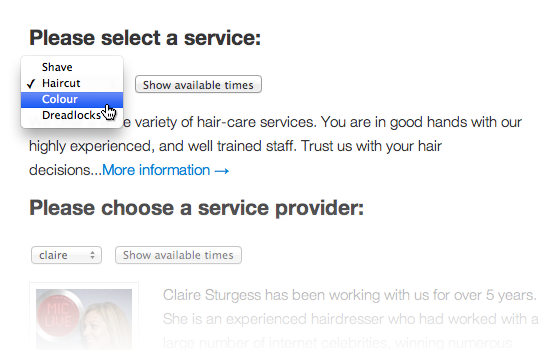 Admins and clients can save any appointment directly to their Google Calendar….with NO API coding required! Just click a button and the appointment shows up on your Google calendar: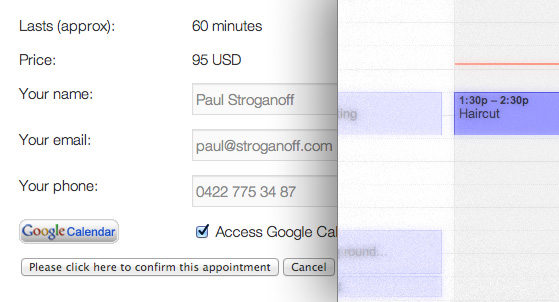 Or fully integrate Google Calendar with your site by entering API credentials, allowing appointment edits made from your Google Calendar to quickly update the appointment details back on your site.
PLUS, you get more than 30 more custom appointment features that rival the most sophisticated (and much more expensive!) booking platforms, including:
Create unlimited services
Create unlimited service provider profiles
Create "black out" dates and times
Edit schedules from back end of WordPress, on admin or profile pages
Compatible with BuddyPress
Short codes for inserting into posts/pages
Creates automatic appointment page including all required shortcodes
Display weekly, or monthly schedules
Limit booking of appointments in advance ( e.g. you can set, say, 2 days to 365 days from today is allowed)
Gravatar support for personalizing provider profiles
Custom Color labels for appointments
Form autofill for repeat clients
Facebook, Twitter, Google+ or WordPress login
Option to require payments or deposits in advance
Deposits can be selected as percentage or as fixed amounts
Synchronizes with your Google Calendar account and automatically updates it
Send clients appointment reminders
Take phone appointments manually
Ability to automatically remove unpaid appointments after a set time
Multiple Widgets included
Documentation inside the plugin including tutorials and FAQ's
More than 130 custom filter and action hooks
Support for multiple break times
Biography and description custom post types
Define appointment locations
Add services and workers locations
Google Maps integration
Worker calendar shortcodes
Increase your sales online with our
Sites with Appointment System Web Design Package